Regular price
Sale price
$24.99 USD
Unit price
per
Sale
Sold out
Coaches, and specifically weightlifting coaches, have always coached their athletes to move the bar fast. But until recently, it was hard if not impossible to quantify this idea. Enter Velocity-Based Training (VBT). VBT is simply measuring bar speed and formulating training based on the achievement of certain velocities. Join World Champion and USAW International Coach Wil Fleming (along with professor Toby Brooks) as he takes you through the the current concepts, applications, and sample programming to integrate VBT into your training.
Reviews:
"This book is a must have for anybody who trains with barbells. Wil takes all the research (going back 40+ years) and his experience competing and coaching, and distills it into something useful and actionable. This book is engaging without useless anecdotes, cogent without being dense.
I suggest reading the whole thing cover-to-cover, then going back to the sections that are specific to your style of training. VBT can be a bit overwhelming because the machine can throw a lot of numbers at you. Knowing why a certain metric is useful for the lift you just did, but not useful for the next lift can really help cut the clutter and confusion out of the session.
I often finish a book on lifting and have no idea where to start. How am I supposed to implement all the cool stuff I just learned? That didn't happen with this book. After reading this book I knew exactly what to do day 1 when my VBT device arrived and how to use that info to program future training blocks. The first day I used VBT I squatted a 20lb PR because I understood and trusted the science of VBT thanks to this book. On that day, my velocity was showing that I had a lot left in the tank, and it was right. My old method of estimating 1RM was just wrong, and left me undertraining for the majority of this training block. There are even a few templates in the back. Most coaches would charge more for those templates than the cost of this book!

TL;DR: This is the best book on weightlifting I've ever read and I can't recommend it enough!"
-Michael
"If you have ever left your workout frustrated or just completely feeling ripped apart and out of whack this book will help you. Learn to put numbers on your training not only for improvement, but for the know how of where to do your work for the day. Weightlifting isn't always about beating last weeks workout. Velocity based training will help you make decisions with training based on numbers that don't lie.

This book is for both athletes and coaches. If you're passionate about training and/or coaching read Wil's book. It will help guide you with optimal ranges for the day and will help your athletes to understand why the numbers of velocity are so important in training. This will teach you to train smart and with a purpose each day."
-Kellie
Share
View full details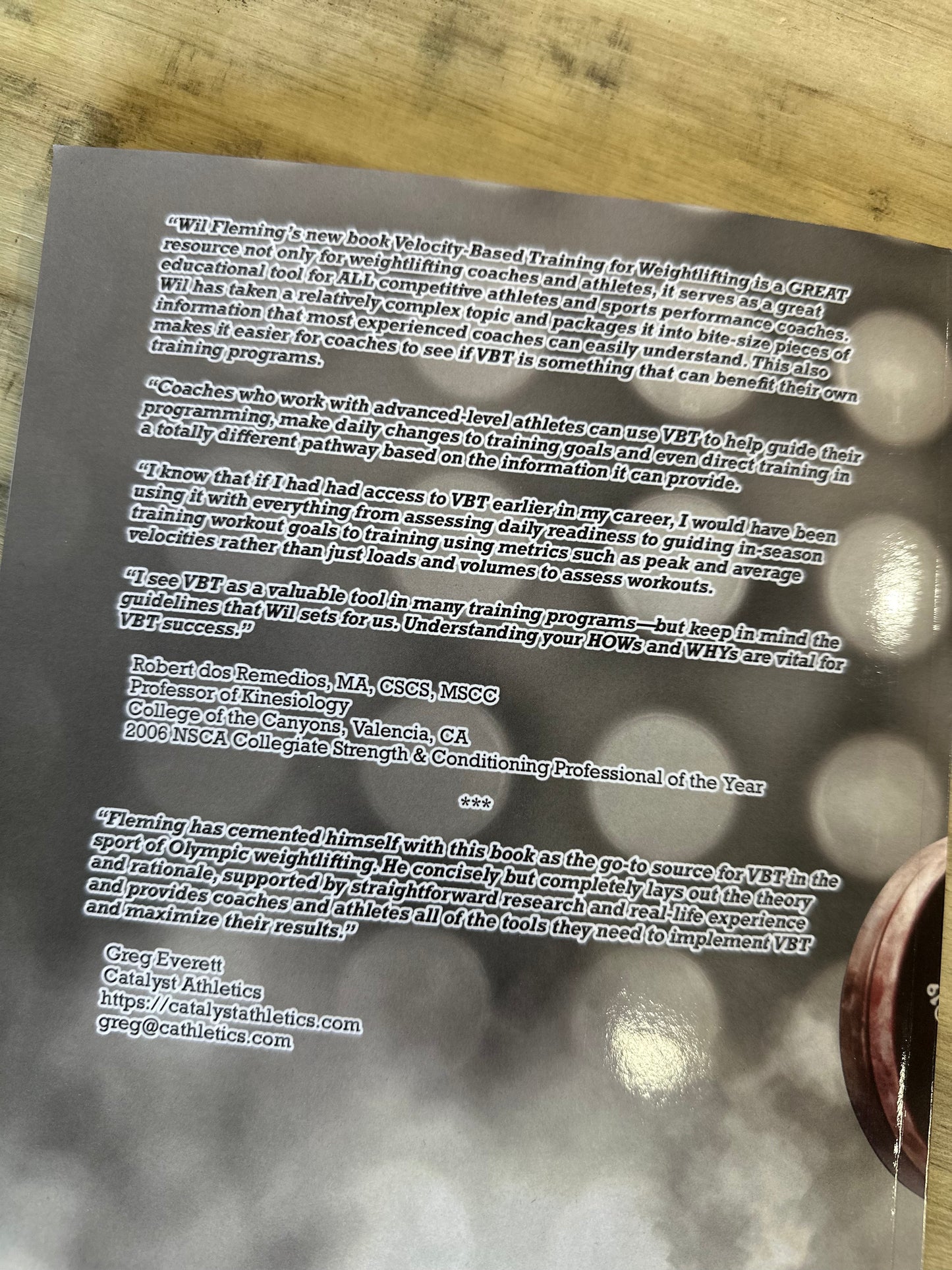 Collapsible content
About Us

1Kilo is a small company focusing on weightlifting and weightlifters. Thank you for supporting our mission to make stronger lifters!
TIPS

Ask us a question with the chat function in the corner. Most times we're able to answer quickly. If we're away you'll get an email response when we return.
SHIPPING

We ship FREE to the US, we try to fulfill orders in under 48 hours most orders take 2-3 days to deliver.